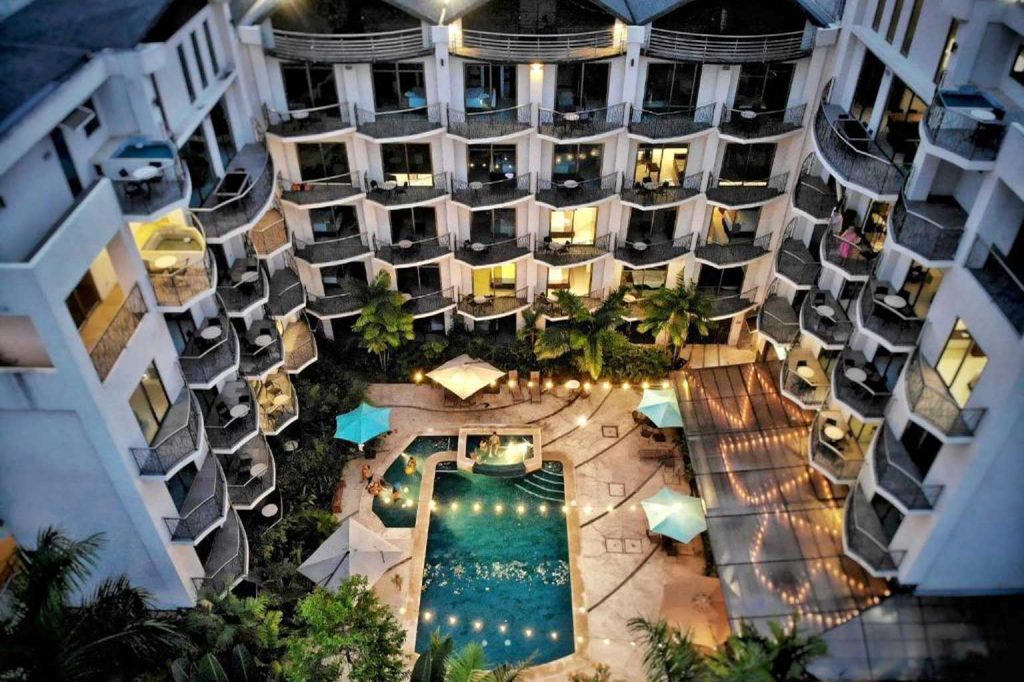 Are you searching for the perfect romantic getaway? Look no further than the stunning destination of Jaco Beach in Costa Rica. With its breathtaking natural beauty, captivating beaches, and a wealth of romantic activities, Jaco Beach offers an idyllic setting for couples seeking an unforgettable escape. Let's delve into why Jaco Beach and Costa Rica should be at the top of your list for a romantic getaway.
A romantic getaway to the beach is a perfect way to unwind, connect with your partner, and create lasting memories. Picture yourself strolling hand in hand along powdery sands, the gentle ocean breeze caressing your skin, and the sound of crashing waves serenading you. Whether you prefer secluded coves, vibrant coastal towns, or exotic tropical destinations, Jaco is a beach getaway to suit every couple's taste.
Ocean Suites and Residence are one of Jaco´s most beautiful hotels boasting a variety of romantic suites and penthouses for a couple wanting to slow down, savor the moments, and immerse yourselves in the tranquility of the hotel immersed in the natural beauty of the beach and surrounding rainforest-laden mountains.  Whether you're celebrating a special occasion or simply seeking quality time together, a romantic beach getaway will surely ignite sparks and create cherished memories that will last a lifetime.
Why is Jaco Beach, Costa Rica the perfect romantic getaway?
With your accommodation booked and ready at Ocean Suites & Residence, Jaco is waiting to be discovered if you would like to explore the surroundings. Let´s see what Jaco Beach, Costa Rica looks like for the romantic travelers of the world,

Great Beaches!
Costa Rica is renowned for its pristine beaches, and Jaco Beach stands out as one of the most enchanting. Picture yourselves strolling hand in hand along the golden sands, with the gentle lapping of the Pacific Ocean as your soundtrack. Jaco Beach offers an ideal ambiance for romantic walks, sunbathing, and mesmerizing sunsets that paint the sky with hues of orange and pink.
Jaco Beach sits along the Pacific Ocean coastline, and there are beaches galore! Check off a couple's goal with a surf class or hire a car and drive down the picturesque coastline stopping at the different beaches along the way. Or just relax on one and get some necessary Vitamin D from the tropical sun. Oceano Suites and Residence is within walking distance from Jaco Beach so all you need is a towel and some sunscreen, and you are ready!
Abundant Natural Beauty:
Costa Rica is a paradise for nature enthusiasts, and Jaco Beach is no exception. Immerse yourselves in the lush rainforests surrounding the area, where vibrant flora and fauna await. Embark on a romantic hike to nearby waterfalls or explore the exotic Manuel Antonio National Park, where you can spot monkeys, sloths, and a myriad of tropical bird species. The captivating beauty of Costa Rica's natural wonders will undoubtedly inspire a sense of awe and romance.
Adventure and Thrills:
For couples seeking a blend of adventure and romance, Jaco Beach is the perfect destination. Engage in exhilarating activities such as ziplining through the jungle canopy, surfing on the world-class waves, or embarking on a thrilling ATV tour. These adrenaline-pumping experiences will not only create unforgettable memories but also strengthen the bond between you and your partner.
Ask about adventure activities at the Oceano Suites and Residence Tour Desk for its menu of possibilities.

Luxury Accommodations:
Oceano Suites and Residence at Jaco Beach boasts a wide range of luxurious accommodations that cater to romantic getaways. Whether you choose a suite with a balcony, a plunge pool, or a kitchen, all are designed to create exceptional spaces for couples.
Which of the following suites will you choose for your romantic getaway?
– Queen Deluxe with Balcony: Ideal for a romantic getaway, this modern room comes with a queen bed and an optional balcony.
– 1 Bedroom POOL Grand SUITE with Kitchen, Plunge pool, living room, 2 extra -large balconies: A spacious suite with a queen-sized bed, living room, fully equipped kitchen, a plunge pool, and 2 over-sized balconies.
– Queen Deluxe, hallway facing Ventilation Window, No Balcony: This room is for couples looking to make memories outdoors. This modern bedroom features a queen-sized bed and is ideal for short stays.
– 1 Bedroom DUPLEX LOFT with Kitchen: This two-story condo has a queen-sized bed, a complete luxury kitchen, three balconies, and amazing views as it is on the 6th floor!.
– 1 Bedroom KITCHEN SUITE: A great space for couples wanting a bit more room during their romantic escape to the beach. With a queen-sized bed, living room, complete luxury kitchen, and two balconies to enjoy the sunset or the lush mountain.
– 1 Bedroom GARDEN SUITE with Kitchen: Modern, spacious suite with a Living Room,  that invites the outside in with two Terrazas overlooking the pool and colorful, tropical gardens.
– 1 Bedroom Pool Suite: This beautiful suite has a queen-sized bed, two oversized balconies, a plunge pool, and a fully equipped kitchen. Perfect for longer romantic stays.
Gastronomic Delights:
Costa Rica is a culinary gem, and Jaco Beach offers an array of dining options that will tantalize your taste buds. Savor fresh seafood delicacies, indulge in traditional Costa Rican cuisine, and enjoy romantic meals overlooking the ocean. During your stay at Oceano Suites and Residence, enjoy the restaurant and bar perfect for romantic dinners or an afternoon pre-dinner cocktail.
Jaco Beach in Costa Rica is an extraordinary destination that offers an exquisite blend of natural beauty, adventure, relaxation, and romance. With its pristine beaches, abundant natural wonders, thrilling activities, luxurious accommodations, delectable cuisine, and warm culture, it is an ideal choice for couples seeking an unforgettable romantic getaway. So pack your bags, embrace the Pura Vida spirit, and let Oceano Suites and Residence, Jaco Beach, and Costa Rica ignite the flames of romance in your hearts.