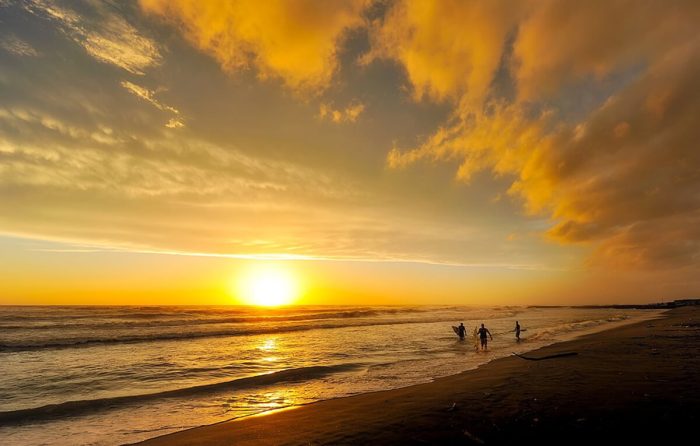 It is no secret for anyone that a vacation or extended stay by the ocean is relaxing. Enjoying a refreshing swim, marveling at a coastal sunset, or having a morning run or walk along the beach is always therapeutic. However, the tempo of life slows down, and the ebb and flow of the water create new rhythms. Well, while we may sense it, this incredible effect. Actually, it has a name and a definition, and it is called Blue Mind! So let´s see how Blue Mind and Jaco blend to create a happier life.
Jaco is the beachside town on the Central Pacific coast of Costa Rica that Ocean Suites and Residence calls home. Ideally located just over an hour from the Juan Santamaria International Airport in the Central Valley and a short drive to a variety of fantastic beaches, it is the perfect choice to slip into the Blue Mind vibe.
An ideal climate all year round, at Jaco Beach, you are immersed in nature, long stretches of beaches, magnificent headlands, and popular surf breaks. This is an inspiration to start your day with fresh air and the sun's rays that stretch over the rainforest-covered mountains that border Jaco to the west.
The pleasure of living by the water has been called "Blue Mind" thanks to its positive effects on our life and well-being. According to Wallace Nichols, a marine biologist, and author, "being close to a body of water, be it sea, river, lake or ocean, promotes mental health and happiness."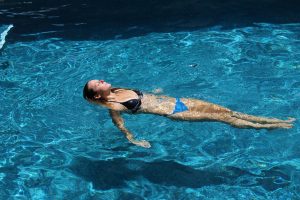 Then, add a tastefully presented long or short-term living environment to the equation that is inviting and has a great location with views of the ocean, the mountains, and the horizon. This is the definition of happiness!
Oceano Suites and Residence is a selection of architecturally styled suites that are both captivating and functional and have stunning design statements. Located steps from what could be Costa Rica´s most famous stretch of beach and the bustling town of Jaco, it allows guests to take in the infinite ocean and the vastness of the horizon from the luxury of their suites and residences.
So, what is the Blue Mind vibe?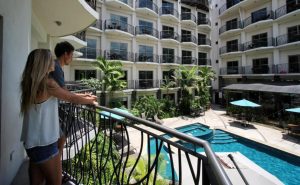 Blue mind is the term we use to explain the meditative state we fall into being by, in, or on the water and helps us achieve "an elevated and sustained happiness." This is the opposite of the "Red Mind," which is a life where anxiety and over-stimulation are the main features in the rush of modern life.
So, we invite you to embrace the blue state of mind and the beautiful setting for effortless outdoor living and lounging. The al fresco space at Oceano Suites and Residence is elevated further by an open layout design inviting barefoot mornings, breezy afternoons, and balmy nights.
This elevated level of happiness doesn`t come by chance when you make the "sea change." Living by the water has a calming effect, meaning stress and anxiety levels go down. A home by the sea with fabulous balconies capitalizing on the abundant fresh air and sensational ocean views is the perfect way to embrace a happier and healthier lifestyle.
A Blue Mind Lifestyle
When you are happy, other amazing things also happen to your mind and body. For example, your breathing and your heart rate begin to lower, which means you are in optimal conditions to do exercise and workouts. So, walking along the beach, riding the waves on your surfboard, or going to the in-house state-of-the-art fitness center will be more fun and improve your performance and results.
Your happiness is upgraded with living spaces that are flooded with natural light and the sea air from sunrise to sunset. This is what living by the water should be, and it is no surprise that Oceano Jaco Suites and Residence offers a perfect balance between casual living on the inside and the natural beauty outside. The spacious suites boast multiple balconies, entertaining spaces, and modern finishings, which add value to your property and heighten market value as a hotel stay.
This is classy living in an engaged neighborhood with its high-end restaurants and casual shopping experiences.
Happiness is also….
If there is one sound that helps us relax and rest, it is the ocean waves or the movement of water. Of course, this means that living by the water produces uplifting results during the sunlight hours, but it is also the perfect companion for a well-rested night, afternoon nap, or morning sleep-in. And we all know that a good night`s sleep is the main ingredient to enjoy a happy disposition!
Ocean Suites and Residences offers homes ranging from spacious one-bedrooms and family-friendly three-bedrooms to the luxury five-bedroom penthouse. The suites are perfect for savvy downsizers, young, growing families, investors wanting to create passive income, or professional couples desiring a winter getaway or luxury vacation pad. Home is where your heart is, and this is surely a happiness booster!
The suites offer panoramic views of the famous Jaco coastline and the vastness of the Pacific Ocean beyond, the lush, rainforest-laden mountains, or the pristine pool. These external features blend with outstanding design elements and unique interior upgrades for an extraordinary living experience. This is happy living where you succumb to the harmony between tropical, seaside comfort and nature.
Come and live the happiness of Blue Mind at Jaco´s Oceano Suites and Residence in Costa Rica, whether it is for a night or a lifetime. Your Blue Mind residence adapts to your lifestyle with its effective Condo-Hotel structure and on-site management team. All this in Costa Rica, one of the happiest countries in the world!